EXIA vous invite à participer à une formation en création de contenu entièrement dédiée à l'outil Power BI. Power BI EXIA invites to take part in a content creation training session devoted entirely to Power BI. Power BI is a highly powerful analytics and data visualization software that enables businesses to mine their data so as to make sound decisions that will ensure optimal results.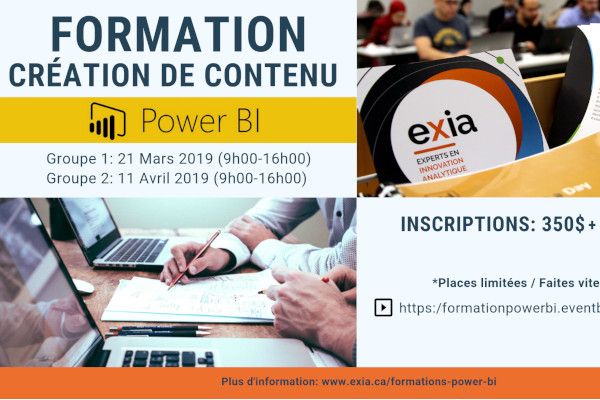 This training session is intended for business professionals who already use the tool and would like to gain a more thorough understanding of its functionalities and increase their level of usage. The course will take place in Montreal in the offices of WeWork L'Avenue, located next to the Bell Centre. For more information on course content, click on Power BI training session.
Cost: $350 (plus taxes).
Two sessions with 18 places are available on Thursdays March 21 and April 11. Register today!

*Registration content available in french only. WeWork l'Avenue   formation Power BI.
La formation coûte 350$ (+ taxes). Deux sessions de 18 places sont planifiées les jeudis 21 mars et 11 avril prochains alors faites vite pour compléter votre inscription.