Why join us?
Parce que ce qui compte vraiment chez EXIA, c'est qui vous êtes et ce qui vous anime. Nous avons toujours beaucoup d'intérêts pour les personnes qui ont un parcours atypique parce que nous savons qu'elles apporteront des points de vue et des façons de faire différents. Dans notre équipe, vous rencontrerez un bel éventail de talents, d'accents et de cultures. Nous aimons partager nos expériences et nos connaissances pour créer une richesse unique.

Le visage de notre équipe est le reflet de ce que nous sommes vraiment, un heureux mélange.
Un visage qui nous ressemble
Même si nous venons des 4 coins de la planète, nous avons les mêmes aspirations
et partageons les mêmes valeurs.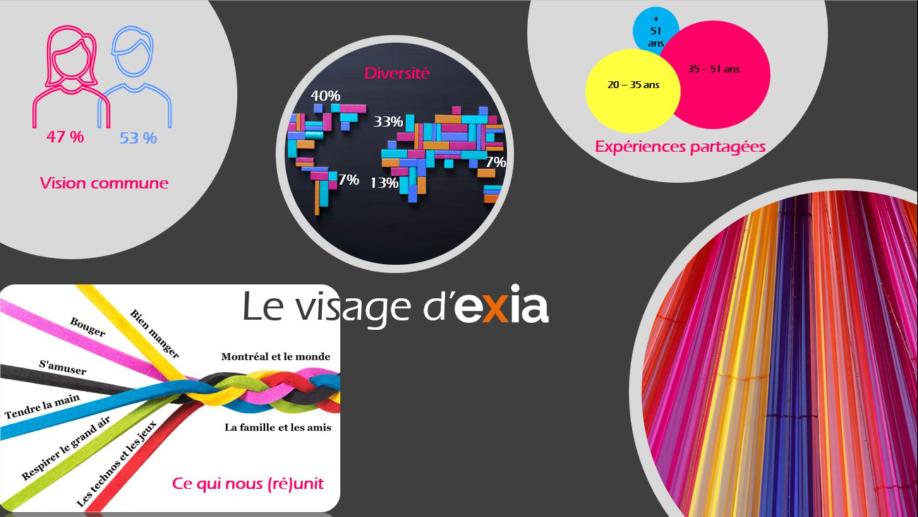 OUR CULTURE, OUR VALUES
Cultiver le savoir-être et le savoir-faire
Notre culture d'entreprise repose sur la valorisation de nos employés et l'épanouissement personnel et professionnel. Au travail, il est important que chaque personne puisse se démarquer et user de son plein potentiel créatif et de son ingéniosité pour résoudre des défis uniques et complexes auxquels nous sommes exposés. La confiance et l'autonomie sont mises de l'avant. Et comme la vie personnelle ne doit jamais être négligée, le mot flexibilité se vit quotidiennement chez nous.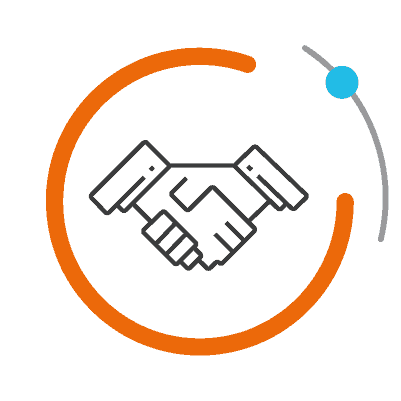 DEVELOP LASTING PARTNERSHIPS
We build privileged relationships with our customers, partners and employees. At EXIA, you too can expect to establish long-lasting relationships in a stimulating, challenging environment where your skills are recognized.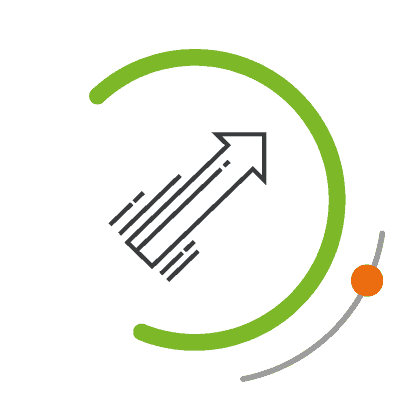 CONSTANTLY IMPROVE
We encourage professional development and empowerment. Benefit from our expertise through active coaching and let us help you take your career to the next level.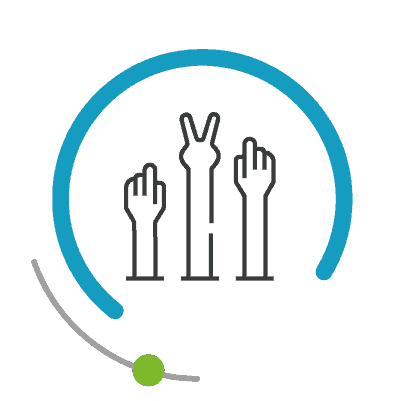 HAVE FUN EVERY DAY

Motivating projects, unique challenges, cutting edge technology, an environment that supports your well-being… You'll develop a true passion at EXIA!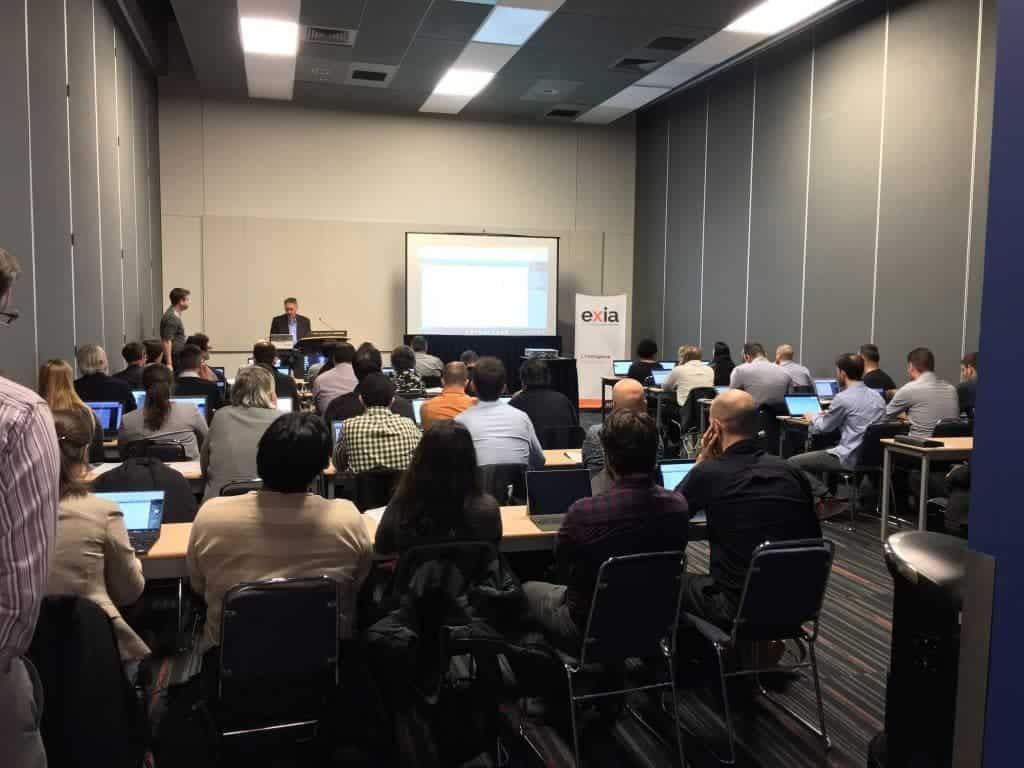 YOUR PROFESSIONAL DEVELOPMENT
Nous vous accompagnons dans vos objectifs
Quelques soient les objectifs que vous vous soyez fixés, nous mettrons tout en oeuvre pour vous aider les atteindre.

Que vous ayez besoin de parrainage, mentorat, coaching, formation ou co-développement, nous adaptons la formule la plus pertinente au moment le plus opportun.

Si vous débutez votre carrière, vous aurez l'opportunité de toucher à tout et ainsi déterminer ce qui vous plait le plus et ce que vous souhaitez vraiment faire.

Si vous avez déjà de l'expérience, vous aurez l'opportunité de participer à des projets stimulants et innovants. Vous pourrez aussi contribuer à l'évolution de nos solutions.

EXIA supports the talents and skills of the next generation by pairing senior employees with junior ones and by offering paid internships to students.
OUR COMMITMENT TO YOU
Your well-being in a rewarding environment
Outstanding working conditions are crucial in putting together a talented team like EXIA. Balance is an important part of well-being and we do everything we can to offer it to you.
Flexible schedule to promote work/life balance

Referral bonus (from $1,500)

Ongoing training program

Paid language lessons

Mentoring program

Social and family activities
Vacation time (based on service)
Paid sick days
Reimbursement for public transit
Cutting edge technology
Team lunches

Competitive salary
Assurance collective octroyée dès l'embauche
Generous group insurance coverage, accessible from date of hire
RRSP program
Cost of membership of professional associations
Career planning service
Cultural diversity and support for visible minority employees
Paid family leave
Stimulating projects
POSITIONS AVAILABLE AT EXIA
1001, rue Lenoir, Suite C-212, Montréal QC H4C 2Z6, Canada

1001, rue Lenoir, Suite C-212, Montréal QC H4C 2Z6, Canada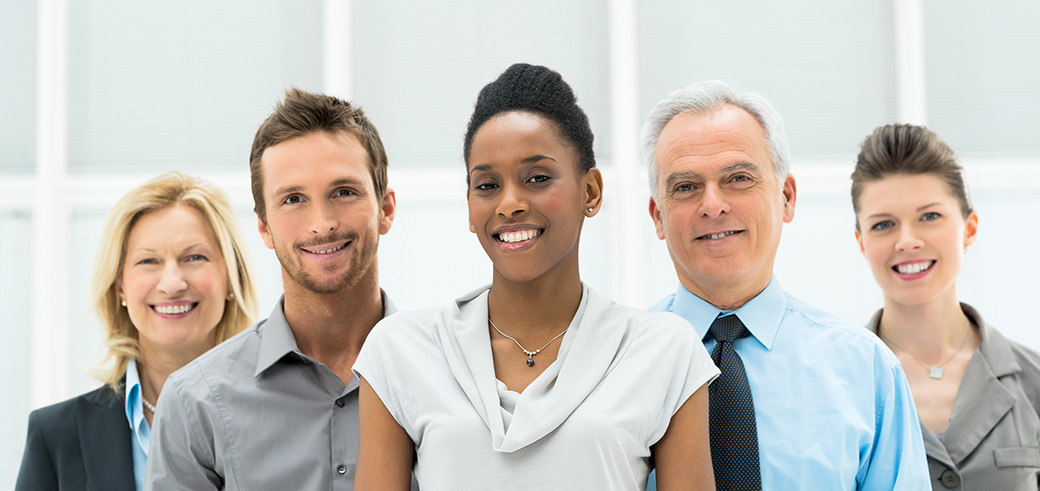 À propos
Notre équipe, ce sont des professionnels passionnés des données, créatifs et méticuleux qui ont à coeur le succès de tous. Bien servir nos clients grâce à nos solutions évolutives est notre motivation. Travailler ensemble pour un objectif commun est notre moteur.