Analytics roadmap
A structured approach to start your analytics projects off right
The world of data and analytics is constantly changing. Each year brings its own set of innovations, buzzwords and confusing new terms – big data, data science, machine learning, data lake, multi-cloud, edge computing, data virtualization, etc. Staying informed and keeping up with these changes is a real challenge for any business.
In addition to the new technologies, the changes that are happening are real and having a profound impact on businesses: in organization, leadership, processes, skills and governance. To address these challenges and stay abreast of data-driven competitors, businesses must organize and plan their transformation.
Everyone agrees on the importance and benefits of utilizing your data to the fullest. Yet few businesses are successful at it, and many face one or more of the following challenges:
Departments are working in silos, producing their own analytics content in a traditional way with the tools at their disposal (Excel, Access, etc.)
Numerous requests from business lines require analysis, qualification, prioritization and planning
IT teams are tied up with maintenance and dealing with changes in traditional corporate platforms
Recent acquisitions require a review of the analytics strategy and data architecture
Some people are doubting the relevance of acquiring new platforms (data lake, cloud, Big Data)
The company's analytics practices are not aligned with its strategic direction
You need to enhance your analytics maturity level

There's an ongoing debate about your current situation (business processes, data sources, technological capacities, internal skills, standards, directives, procedures, governance)
For modern businesses, developing the means to make good use of information is a strategic imperative in optimizing business development. Reaching this goal requires defining a clear overall vision of the direction the company should take to become a data-driven organization.
To help you achieve this, Exia proposes a clear roadmap-type project structured as a comprehensive "Analytics Roadmap Exercise" and aligned with the objectives and initiatives set out in your company's own master plan.
At Exia, we realize the importance of these challenges, and they form an integral part of our business relationship with our clients. We focus on driving change, involving all resources, developing their expertise and governing the decision-making process to ensure the overall results are not simply limited to the purely technical.

Exia has developed a formal method for conducting Analytics Roadmap Exercises. This is based on industry best practices and enriched with our many years of experience in the field. The resulting Analytics Roadmap covers all the key elements and is guaranteed to be completed on time, carried out in a formal manner and delivered at a reasonable cost.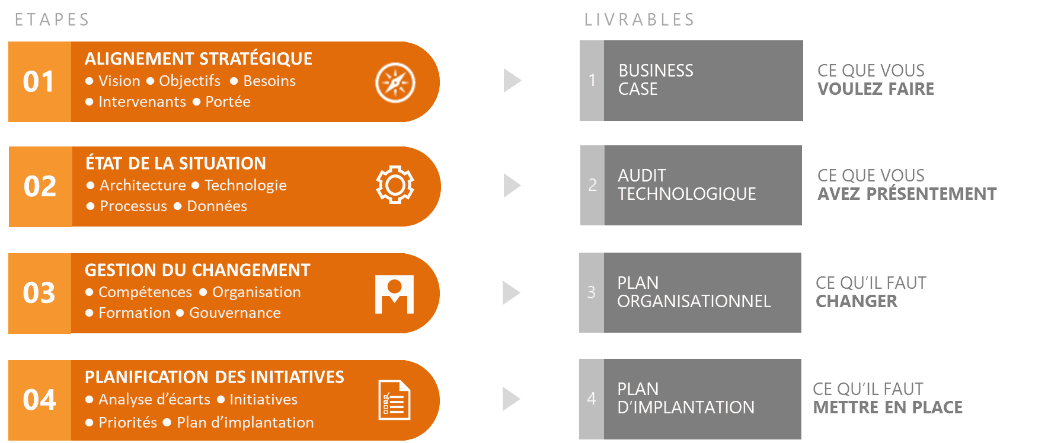 Our approach is structured in 4 steps, each serving as the basis for the next. This ensures that the work is thorough and that all the key elements of the Analytics Roadmap are taken into account: strategy, technology, planning and organization.

To learn more on our approach, or for an in depth presentation on our Roadmap engagements, contact-us.